DISKORD + CRYPTIC BROOD "Oscillating Brain" European tour announcement!
Lycanthropic Chants presents the "Oscillating Brain" tour that brings uncompromising and original death metal on a round trip through Europe in March 2018. The bands DISKORD (Norway) and CRYPTIC BROOD (Germany) promise to satisfy your ravaging death metal hunger, with music ranging from the very twisted and outlandish to pure lobotomy in putrid slime.
The route looks as follows. There's still one open date (Sunday, north of France). Feel free to contact us if you're able to help.
"Oscillating Brain" Tour
2018.03.16, GER/Hamburg @Gängeviertel
2018.03.17, BEL/Chapelle-Lez-Herlaimont @Le Cercle
2018.03.18, FRA/north (need help!)
2018.03.19, FRA/Poitiers @Le Zinc
2018.03.20, BAQ/Donostia @Mogambo
2018.03.21, ESP/Zaragoza @AVV Arrebato
2018.03.22, FRA/Cavaillon @Iron Bar
2018.03.23, ITA/tba
2018.03.24, GER/Ulm @CAT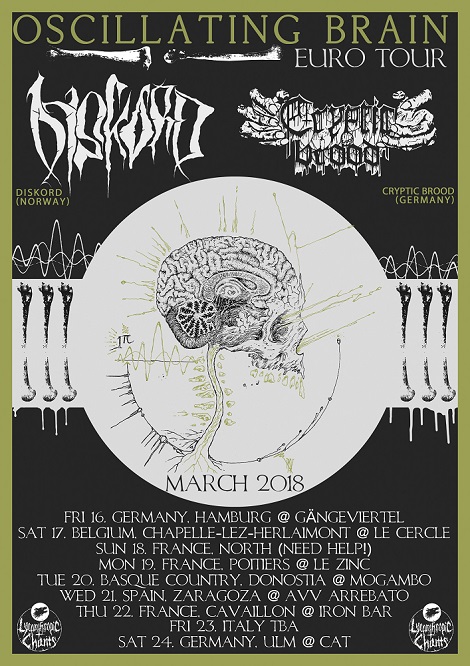 DISKORD
http://www.diskord.net
https://diskord.bandcamp.com/
https://facebook.com/DiskordNorway
https://instagram.com/DiskordNorway
CRYPTIC BROOD
https://www.crypticbrood.de
https://crypticbrood.bandcamp.com/
https://www.facebook.com/CrypticBrood
https://www.instagram.com/crypticbrood/
Poster art by RK Valbo (OBLITERATION, SPECTRAL HAZE, VOID EATER).
Lycanthropic Chants
http://www.lycanthropic-chants.de
https://www.facebook.com/lycanthropic.de/
https://www.instagram.com/lycanthropic_chants/