ANATOMIA + CRYPTIC BROOD "Infectious Decay" European tour announcement!
"Infectious Decay" is description enough to give this disgusting tour – presented by Lycanthropic Chants – a proper name: Japan's most horrifying Death Metal outfit ANATOMIA joins forces with the mold loving creeps of CRYPTIC BROOD from Germany to deliver a week full of slimy and morbid tunes. The dismal events will take place from 29th September 2018 to 06th October 2018 …beware!
Interested bookers get in touch via lycnathropic(-at-)email(-dot-)de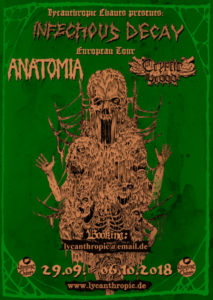 Poster art by Necromaniac Artworks.
ANATOMIA
Bandcamp
Facebook
metal-archives
CRYPTIC BROOD
Website
Bandcamp
Facebook
Instagram
metal-archives